The future is green
The future is green
In line with the ambitious agendas concerning energy in the Northern Netherlands called Smart & Green and CO2 neutral we are implementing the new standard in sustainable public transport. Already half the fleet of buses used for public transport in Groningen and Drenthe has been zero emission since December 2019, with an overall decrease of 90% CO2 emissions compared to the previous concession. This has been a significant step towards our goal to operate completely emission free in the year 2030.
Starting from early 2024 we will take significant further action towards a completely zero emission fleet of public transport buses. Due to ever ongoing technical developments and decreasing operational expenses we can replace most of the diesel buses (running on HVO) with zero emission electric buses. 158 electric buses will be acquired by our public transport operator Qbuzz, with which 95% of the public transport buses in Groningen and Drenthe will be free of unwanted exhaust fumes.
Electric buses
Considering that each type of bus deployment requires a specific type of bus, Qbuzz operates electric buses of various makes and sizes, with differing battery capacities and several ways of charging. All buses will start their first shift of the day fully charged. A part of the fleet of electric buses has a small battery to not carry around too much weight and is quickly recharged at fixed points on route (Q-link and city buses). The Q-liners, our intercity buses driving primarily on motorways, use a lot of energy, require a large operating range and rarely employ regenerative braking due to the way they operate. Therefore, these buses are equipped with large battery packs which will also be recharged at end points during the shifts. Regional buses will not be able to recharge during service, due to the absence of a fixed end point. This means that these regional buses will be recharged during the night and will also need a large battery package. The required energy to power the electric buses in Groningen and Drenthe is provided by Dutch wind farms.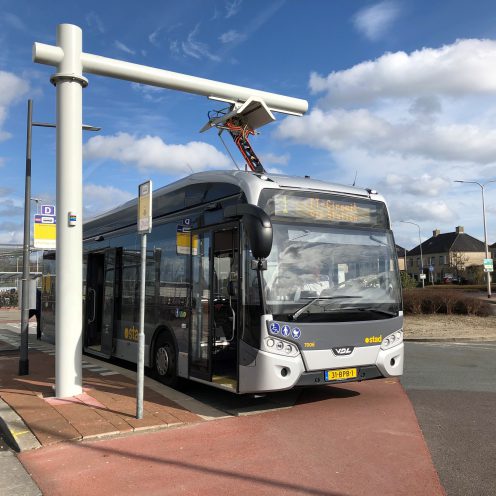 Hydrogen buses
Regional buses have been running on green hydrogen in Groningen and Drenthe since as early as 2017. Another twenty hydrogen-powered electric buses were included in Groningen in 2021, followed by another ten of these in Emmen one year later. The advantage of these hydrogen-electric buses over battery-electric buses is the longer operational range. This means these hydrogen powered buses can do longer shifts without having to return to their depot to be recharged. These buses tie in with the ambition to make the Northern Netherlands a (green) hydrogen economy, the Hydrogen Valley.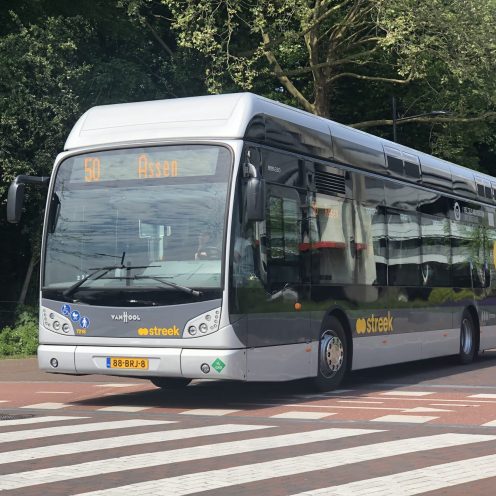 Other buses on HVO
HVO is the abbreviation of Hydrotreated Vegetable Oil, a synthetic biodiesel made from waste cooking and frying fat. Although HVO is not completely emission-free, the use of this fuel compared to conventional diesel results in a saving of 85-90% in CO2 emission. In addition to the limited CO2 emissions, HVO emits fewer nitrogen oxides and particulates compared to fossil diesel.
HVO is used in conventional diesel engines and transported and refueled like normal diesel, making it a quick and easy way to make transport more sustainable. Nevertheless, this clean HVO diesel can only be seen as a transitional fuel as it is not completely free of emission. Going all electric will eventually be less expensive because of the high cost of HVO.
The conventional internal combustion engine will be completely phased out from public transport in Groningen and Drenthe by 2030 at the latest.
What will his transition deliver?
Converting the bus fleet from diesel to electric means less harm to the environment, fewer emissions of damaging substances and less noise pollution. Inside the bus a decrease of noise and vibrations will result in a more relaxed and pleasant journey, but zero emission buses will be even more beneficial to the people outside of the bus.
The main issues in relation to this transition are, however, pushing back climate change and switching over to renewable energy. Public transport in Groningen and Drenthe is giving this narrative a significant push.