The future is green
The future is green
Since December 2019, public bus transport in Groningen and Drenthe has been almost completely emission-free. Since that time, we have reduced CO2 emissions by 90%. And we will continue working until we are 100% emission-free in 2030. In this way, we are setting a new standard in the field of sustainability in public transport. This is in line with the ambitious energy plan of the Northern Netherlands. Smart & Green, CO2 neutral.
Since December 2019, the bus fleet in Groningen and Drenthe has been considerably more sustainable, largely with new and clean(er) buses, 164 in total:
all 45 city buses in Emmen, Assen and Groningen are electric
59 electric buses on Q-link 1, 2, 3, 4 and 5 (Q-link 6, 12 and 15 will follow later)
60 electric regional buses in the provinces of Groningen and Drenthe
Electric buses
We have chosen electric buses from different brands, with different ways of charging. We have the right type of bus for every type of deployment. This also spreads the risk and helps us achieve more reliable sustainability. The city and regional buses are charged in their garages. The Q-link buses partly recharge (super fast!) during trips using a so-called pantograph charging station. The power comes from Dutch wind farms.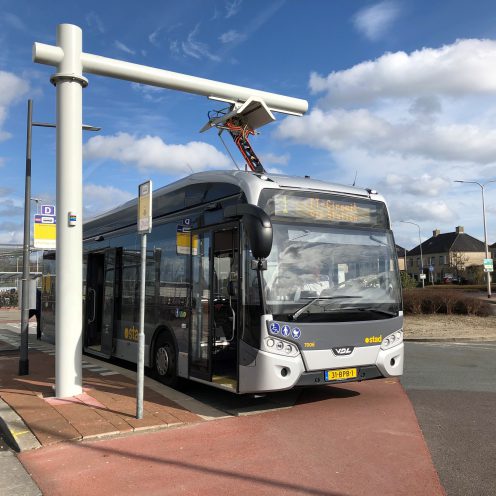 Expansion of hydrogen buses
There are now two regional buses running on green, zero-emission hydrogen. In 2020 20 extra hydrogen buses will be added to the fleet, possibly even 30. These buses tie in with the ambition to make the Northern Netherlands a (green) hydrogen economy, the Hydrogen Valley. The OV-bureau supplies clean hydrogen to Qbuzz for a fixed guaranteed price.
Other buses on HVO
HVO means Hydrotreated Vegetable Oil, or biodiesel, made from residual cooking fat. This fuel is not 100% emission-free, but still achieves a large saving in CO2 emissions. The classic diesel bus will eventually disappear altogether, by 2030 at the latest, but the ambition is sooner.
What will his transition deliver?
For the inhabitants of Drenthe and Groningen, making the buses more sustainable means less damage to the environment, fewer emissions of harmful substances and less noise. And this means a positive contribution to the climate in the long term. The lower noise level will also be noticeable in the bus. Furthermore, the investment also means an improvement in travel comfort: better and more comfortable seats, wifi, air conditioning and USB chargers in all buses.