The future is green
The future is green
Since December 2019, public bus transport emissions in the provinces of Groningen and Drenthe have decreased by almost 50%, resulting is a 90% reduction of CO2 emissions. Our objective is to be 100% emission-free by 2030, and in line with the ambitious energy plan of the Northern Netherlands: Slim & Groen, CO2 neutraal (Smart & Green, carbon-neutral) we are setting a new benchmark in promoting public transport sustainability.
Since December 2019, the bus fleet in Groningen and Drenthe is considerably more sustainable, mainly as a result of the use of 186 new zero-emission buses:
All 45 city buses in Emmen, Assen and Groningen are electric.
59 electric buses on Q-link 1, 2, 3, 4 and 5 (Q-link 6 and 15 will follow later).
60 electric regional buses.
22 hydrogen buses.
Electric buses
We use electric buses of various brands, with various batteries and different ways of charging. Each type of bus deployment requires a certain bus type. By making a well-considered choice, electric buses can be deployed more quickly and at a lower cost while spreading the risks of this use of new technology.
All buses are fully charged at the start of each day. Some buses have a small battery and – using high power – are recharged frequently and quickly en route (Q-link and city buses). Others have a large battery that is recharged in the bus depot overnight or during the day at a slightly lower capacity.
The power for this is provided by Dutch wind farms.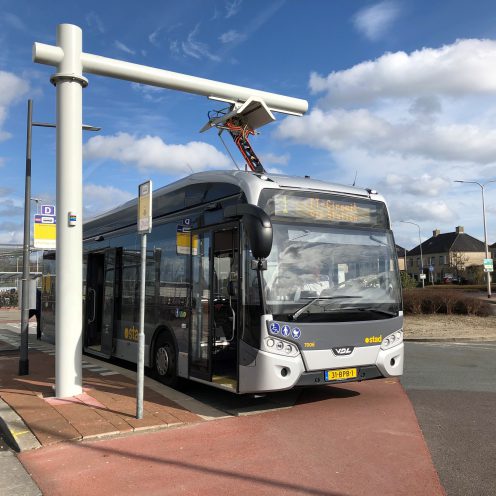 Hydrogen buses
Since 2017, two regional buses have run on green hydrogen. In 2021, another twenty hydrogen-powered buses are added, followed by another 10 in late 2021. These buses tie in with the ambition to make the Northern Netherlands a (green) hydrogen economy, the Hydrogen Valley. The OV-bureau provides green hydrogen to Qbuzz at a set and guaranteed price.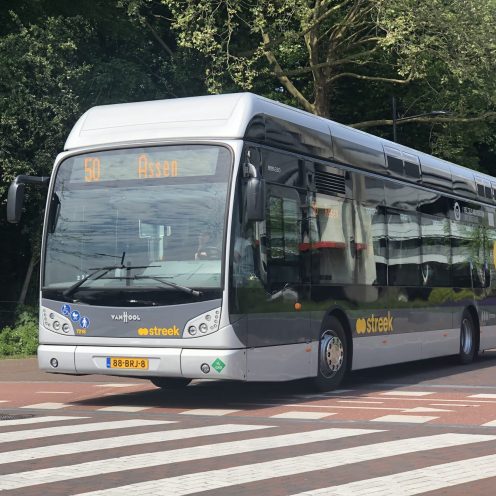 Other buses on HVO
HVO is the abbreviation of Hydrotreated Vegetable Oil; synthetic biodiesel made from waste cooking and frying fat. Although it is not completely emission-free, this fuel results in a saving of 87% in terms of CO2 emissions. In addition to more limited CO2 emissions, HVO emits fewer nitrogen oxides and particulates compared to fossil diesel.
HVO is used in existing diesel engines and transported and refuelled like normal diesel, making it a quick and easy way to make transport more sustainable. Nevertheless, electric vehicles will eventually be cheaper, because of the higher price per litre for biodiesel.
The classic diesel engine will be completely phased out from public transport in Groningen and Drenthe by 2030 at the latest, and as much sooner as possible.
What will his transition deliver?
For the inhabitants of Drenthe and Groningen, making the buses more sustainable means less damage to the environment, fewer emissions of harmful substances and less noise. The decrease in vibrations will result in more quiet buses.
The main issues in relation to this transition are the pushing back of climate change and the switch to renewable energy. The idea is for public transport to be a pioneer in this.